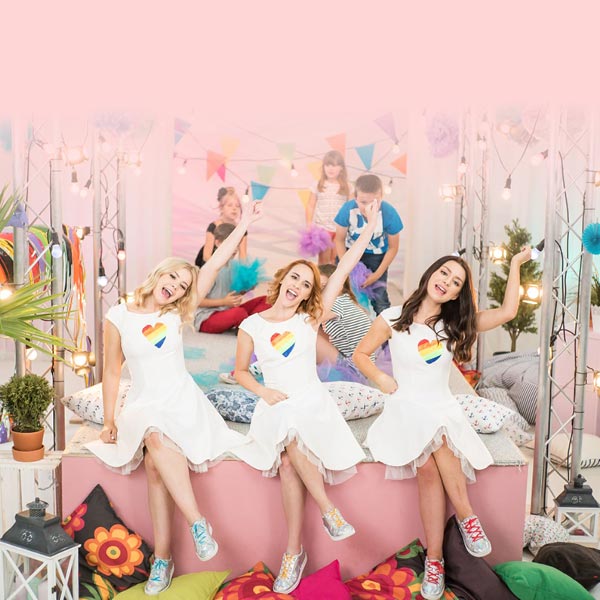 Natka, Julka
and Gefi. Fun,
optimism, joy!
My 3 is primarily a music band that all kids and teenagers in Poland are going to love! Their songs are full of optimism, fun and joy! My 3 consists of Natka, Julka and Gefi. All three of them are completely different personalities which together form an exceptional and colorful world which they enthusiastically invite everyone to.
Natka is a sweet 16-year-old from Kaszuby (Kashubia). She is a starry-eyed dreamer. She's joyful, spontaneous and amorous. Her favorite animals are pink breeding pigs, as they are very smart and sweet creatures. Her hobbies are singing and acting. In her free time, she loves to climb trees with her friends and play counting-out games. Natka is very close with her family. Her biggest dream is to go on a journey around the world, and her favorite song is Sia's "Cheap Thrills".
Julka is a pretty 17-year-old from Lubelszczyzna. She always follows her heart and her reason. She is a perfectionist, and in My 3, she has adopted the role of an organizer. Her biggest passion is music – she will sing in front of the mirror for hours. She adores Ariana Grande and Beyonce. She loves dolphins because they are one of the most intelligent aquatic mammals. It is no wonder then that Julka loves swimming. She has a younger brother and an older sister. Her siblings are her greatest joy and she spends every possible moment with them. Her dream is to learn at least 6 foreign languages and help the Third World countries.
Gefi is a crazy 18-year-old from the Bieszczady Mountains. She never gives up, she is brave and full of energy. In My 3, she is the sports girl. She is fond of fast and predatory animals. If she could, she would love to keep a huge cat, such as a cheetah, at home. Working out and dancing – that is when she feels in her element! She also loves computer games. As far as music is concerned, she values Mans Zemerlow and his hit song "Heroes" is her favorite song. Gefi is very close with her mother who is her best friend. She is dreaming of space travel, winning the Olympics and finding true love for a lifetime.
Have a look